Zephaniah Graphics
Zephaniah Time
| | | | | | | | | |
| --- | --- | --- | --- | --- | --- | --- | --- | --- |
| Zephaniah becomes a prophet; Josiah becomes king of Judah  |  Jeremiah becomes a prophet |  Book of the Law found in the Temple | Zephaniah's ministry ends  | Habakkuk becomes a prophet  | Josiah dies in battle  | First captives taken to Babylon   |  Babylon's second attack on Judah |  Judah (the southern kingdom) falls |
| 640 B.C.  |  627 | 622  |  621 |  612 | 609  |  605 | 597  |  586 |
Vital statistics
| | |
| --- | --- |
|  Purpose: |  To shake the people of Judah out to their complacency and urge them to return to God |
|  Author: |  Zephaniah |
|  Original audience: |  The people of Judah (the southern kingdom) |
|  Date written: |  Probably near the end of Zephaniah's ministry (640-621 B.C), when King Josiah's great reforms began. |
|  Setting: |  King Josiah of Judah was attempting to reverse the evil trends set by the two previous kings of Judah - Manasseh and Amon. Josiah was able to extend his influence because no strong superpower was dominating the world at that time (Assyria was declining rapidly). Zephaniah's prophecy may have been the motivating factor in Josiah's reform. Zephaniah was a contemporary of Jeremiah.   |
|  Key verse: |  "Seek the Lord, all who are humble, and follow his commands. Seek to do what is right and to live humbly. Perhaps even yet the Lord will protect you - protect you from his anger on that day of destruction" (2:3)  |
|  Key place:  |  Jerusalem |
The Rulers and Prophets of Zephaniah's Time
720
710
700
690
680
670
660
650
640
630
620
610
600
590
580
570
560

Kings of Assyria

 
 

669     Ashurbanipal       633

Ashuretililani 633-629
 
 
 
 
 

   Sinsharishkun      629           612

Ashuruballit                   
 612-609
 
 
 
 
 
 
 
 
 
 
 
 
 
 
 
 
 
 
 

Kings of Babylon

 
 
 
 
 
 

 

 
Fall of Nineveh
 
 
 
 
 
 

 Nabopolassar   626       605        

605 Nebuchadnezzar  562 

 
 
 
 
 
 
 
 
 
 
 
 
 
 
 
 
 
 
 
 
 
 
 

Kings of Judah (Southern Kingdom)

 
 
 
 
 
 
 
 
 
 
Jehoiachin 3 months
 
 
 
 
 
 Amon 642-640
 
Jehoahaz 3 months
 

697               Manasseh              642

640 Josiah  609

Jehoiakin 609-597
Judah taken captive to Babylon by Nebuchadnezzar
 Zedekiah 597-586
 
 
 
 
 
 
 
 
 
 
 
 
 
 
 
 
 
 
 
 
 
 
 
 
 
 
 
 
 
 
 
 

Zephaniah and His Contemporary Prophets     (Southern Kingdom)

 
 
 
 
 

ZEPHANIAH

636              623

 

605              Daniel              536

 
 
 
 
 

Habakkuk

620       609

Ezekiel

593                          559>

 
 
 
 
 
 
 
 
 

650       Nahum       620

 
 
 
 
 
 

627                     Jeremiah                       574

 
720
710
700
690
680
670
660
650
640
630
620
610
600
590
580
570
560

1:1
Name means:
"The Lord has hidden," perhaps reflecting the likelihood that Zephaniah was born during the evil days of King Manasseh (c. 697–642
a.d.
).
Home:
Probably Jerusalem.
Family:
Was a descendant of Hezekiah, probably the king of Judah (c. 715–686
a.d.
); was the son of Cushi; probably a cousin and contemporary of King Josiah (c. 640–609
a.d.
).
Occupation:
Prophet in Judah during the early reign of King Josiah, probably before the spiritual reforms of 621
a.d.
(
2 Kin. 23:4–20
).
Best known today as:
A prophet from the royal family in Judah who warned that the nation's immorality and idolatry made judgment inevitable (
1:4–13
;
3:1–7
). However, he also predicted that a penitent remnant would survive the coming judgment and enjoy blessings (
2:1–3
;
3:8–20
).
Titles of the Coming King
Lord of hosts (
Isa. 24:23
,
nasb
)
The most High (
Dan. 7:22–24
)
The Lord our Righteousness (
Jer. 23:6
)
Ancient of Days (
Dan. 7:13
)
Messiah the Prince (
Dan. 9:25–26
,
kjv
)
The Redeemer (
Isa. 59:20
)
The Lawgiver (
Isa. 33:22
)
Prince of princes (
Dan. 8:25
)
Richards, L., & Richards, L. O. (1987). The teacher's commentary. Includes index. (494). Wheaton, Ill.: Victor Books.
Zephaniah
Served as a prophet to Judah from 640-621 B.C.
 
 CLIMATE OF THE TIMES



  Josiah was the last good king in Judah. His bold attempts to reform the nation and turn it back to God were probably influenced by Zephaniah. 
 
 MAIN MESSAGE



 A day will come when God, as judge, will severely punish all nations. But after judgment, he will show mercy to all who have been faithful to him.
 
 
 IMPORTANCE OF MESSAGE


 
 We will all be judged for our disobedience to God; but if we remain faithful to him, he will show us mercy.


 
 CONTEMPORARY


 
 Jeremiah (627-586 B.C.)
The Blueprint


   1) THE DAY OF JUDGMENT (11:1-3:8)



   2) THE DAY OF HOPE (3:9-20)



   Zephaniah warned the people of Judah that if they refused to repent, the entire nation, including the beloved city of Jerusalem, would be lost. The people knew that God would eventually bless them, but Zephaniah made it clear that there would be judgment first, then blessing. This judgment would not be merely punishment for sin, but it would also be a means of purifying the people. Though we live in a fallen world surrounded by evil, we can hope in the perfect Kingdom of God to come; and we can allow any punishment that touches us now to purify us from sin.
 
Zephaniah Overview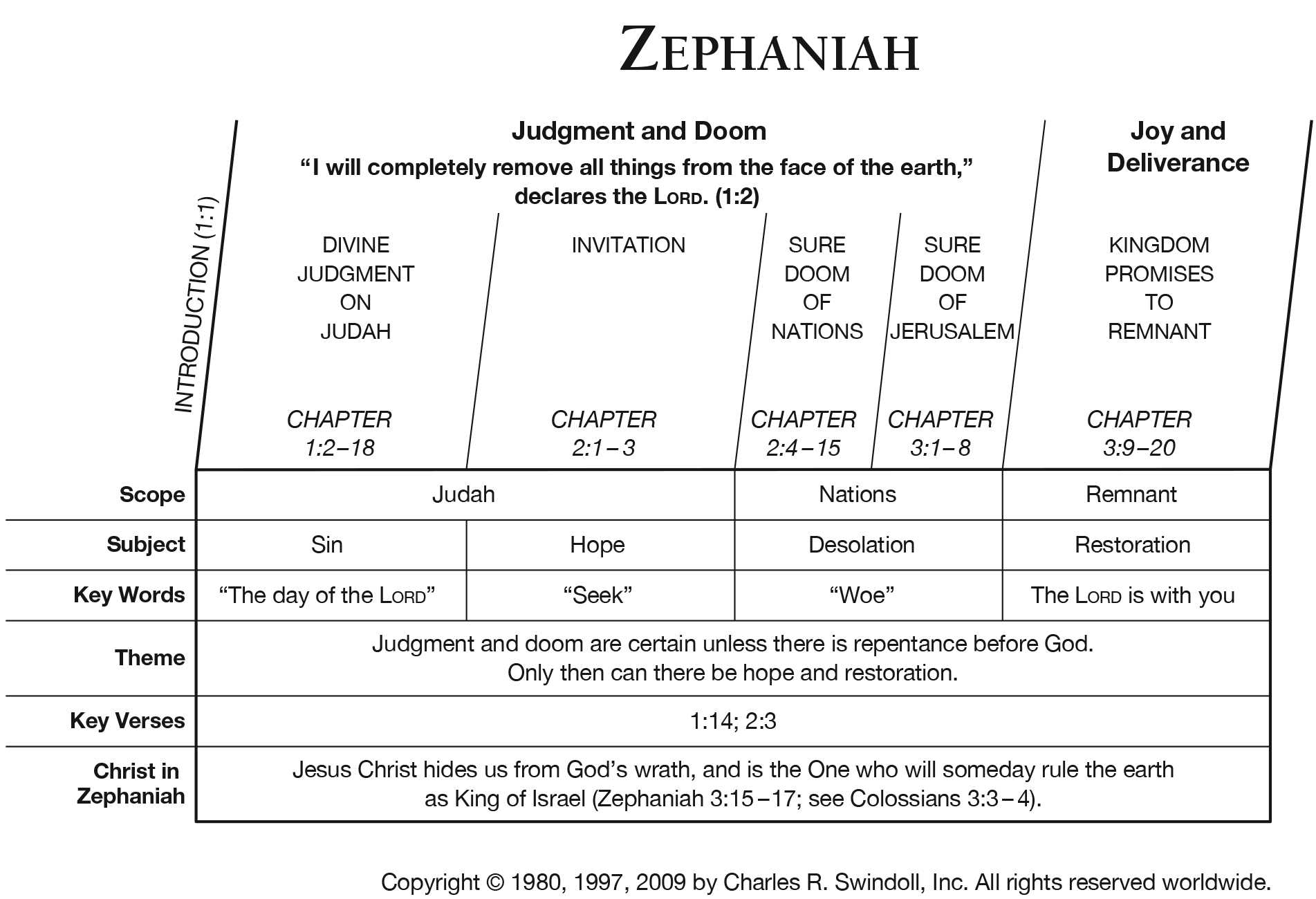 "Day of the Lord" Fulfillments
| | |
| --- | --- |
|  Near |  Far |
|  Obadiah 1-14 |  Obadiah 15-21 |
|  Joel 1:15; 2:1, 11 |  Joel 2:31 (3:1); 3:14 |
|  Amos 5:18-20 |  -------------------  |
|  -------------------  |  Isaiah 2:12 |
|  Isaiah 13:6 |  Isaiah 13:9 |
|  Zephaniah 1:7 |  Zephaniah 1:18 |
|  Ezekiel 13:5; 20:3 |  -------------------  |
|  -------------------  |  Zechariah 14:1 |
|  -------------------  |  Malachi 4:5 |
God's "I Wills" of Restoration
Zephaniah 3:18-20
| | | |
| --- | --- | --- |
| 1 |  I will remove.  |  3:18 |
|  2  |  I will deal.  |  3:19 |
|  3  |  I will rescue.  |  3:19 |
| 4 |  I will gather.  |  3:19 |
| 5 |  I will give.  |  3:19 |
| 6 |  I will gather.   |  3:20 |
|  7  |  I will bring you home. |  3:20 |
|  8  |  I will give you. |  3:20 |