| | | | | | | |
| --- | --- | --- | --- | --- | --- | --- |
|  First exiles return to Jerusalem | Temple reconstruction begins  |  Haggai, Zechariah become prophets  | Temple completed  |  Ezra comes to Jerusalem | Nehemiah comes to Jerusalem  |  Malachi becomes a prophet |
|  538 B.C. | 536  |  520 |  516 |  458 |  445 |  430 |
Vital statistics
| | |
| --- | --- |
|  Purpose: |  To confront the people with their sins and to restore their relationship with God |
|  Author: |  Malachi |
|  Original audience: |  The people in Jerusalem  |
|  Date written: |  Approximately 430 B.C. |
|  Setting: |  Malachi, Haggai, and Zechariah were postexilic prophets to Judah (the southern kingdom). Haggai and Zechariah rebuked the people for their failure to rebuild the Temple. Malachi confronted them with their neglect of the Temple and their false and profane worship.   |
|  Key verses: |  "The day of judgment is coming, burning like a furnace... But for you who fear my name, the Sun of Righteousness will rise with healing in his wings. And you will go free, leaping with joy like calves let out to pasture" (4:1, 2) |
|  Key people: |  Malachi, the priests |
|  Special features:  |  Malachi's literary style employs a dramatic use of questions asked by God and his people (for example, 3:7, 8).   |
The Rulers and Prophets of Malachi's Time 
465
460
455
450
445
440
435
430
425
420
415
410
405
400
395
390
385
380
375

Artaxerxes I

464                                                                         423

Darius II

423              404

 

 

 

Kings of Persia

 

 

 

 

 

 

 

 

 

 

 

 

 

 

 

 

 

 

 

 

 

 

 

 

 

 

 

 

 

 

 

MALACHI

435?                     415?

 

 

 

 

 

Malachi and Contemporary Prophets

(Southern Kingdom)

 

 

 

 

 

 

 

 

 

 

 

 

 

 

 

 

 

400 year intertestament period

 

 

 

 

 

 

 

 

 

 

 

 

 

 

 

Ezra

457

 

Nehemiah

445                                               415

 

 

 

 

 

 

 

 

 

 

 

 

 

 

 

 

 

458 Ezra returns to Israel with exiles

 

 

 

 

 

 

 

 

 

 

 

 

 

 

 

 

 

 

 

 

 

 

 

 

 

 

 

 

 

 

 

445 Nehemiah returns to Jerusalem and rebuilds walls in 52 days

 

 

 

 

 

 

 

 

 

 

 

 

 

 

 

 

 

 

 

 

 

 

 

 

 

 

 

 

 

 

 

 

 

 

 

 

 

 

 

 

 

465
460
455
450
445
440
435
430
425
420
415
410
405
400
395
390
385
380
375
Personality Profile: Malachi
1:1
Name means:
"My messenger" or "My angel."
Home:
Probably Jerusalem.
Occupation:
Prophet in postexilic Jerusalem, possibly during the time of Nehemiah (see
Neh. 1:1
), as he condemned many of the same sins mentioned by Nehemiah (
Mal. 1:6–14
;
2:14–16
;
3:8–11
; compare
Neh. 13:7–31
).
Best known today as:
The last prophet in the Old Testament. Some 400 years of silence come between Malachi and the next messenger of the Lord, John the Baptist (
Mal. 3:1
; see
Mark 1:6
).
The Coming of Christ




Confirmed in the New Testament

As Messenger of the covenant, Christ comes to His temple (

3:1

). and purifies His people (

3:3

)

Christ cleanses the temple (

John 2:14–17

) and sanctifies His people (

Heb. 13:12

).

His coming brings judgment (

4:1

).

Those whose names are not in the Book of Life are cast into the lake of fire (

Rev. 20:11–15

).

As the Sun of Righteousness, Christ heals His people (

4:2

).

Christ heals the multitudes, ultimately all sickness will pass away (

Matt. 12:15

;

Rev. 21:4

).

His forerunner prepares for the coming of the Lord (

3:1

;

4:5

).

John the Baptist announces Christ (

Matt. 11:10–14

).
Malachi
Served as a prophet to Judah about 430 B.C. He was the last of the Old Testament prophet. 
 
  CLIMATE OF THE TIMES



   The city of Jerusalem and the Temple had been rebuilt for almost a century, but the people had become complacent in their worship of God. 


 
  MAIN MESSAGE



   The people's relationship with God was broken because of their sin, and they would soon be punished But the few who repented would receive God's blessing, highlighted in his promise to send a Messiah.
  

   IMPORTANCE OF MESSAGE


 
  Hypocrisy neglecting God, and careless living have devastating consequences. Serving and worshiping God must be the primary focus of our life, both now and in eternity.
  

   CONTEMPORARY PROPHETS


 
 None
The Blueprint
 
  1) THE SINFUL PRIESTS (1:1-2:9)


  2) THE SINFUL PEOPLE (2:10-3:15)


  3) THE FAITHFUL FEW (3:16-4:6)



   


  Malachi rebuked the people and the priests for neglecting the worship of God and failing to live according to his will. The priests were corrupt; how could they lead the people? They had become stumbling blocks instead of spiritual leaders. The men were divorcing their wives and marrying pagan women; how could they have godly children? Their relationship to God had become inconsequential. If our relationship with God is unimportant, we need to take stock of ourselves by setting aside our sinful habits, putting the Lord first, and giving God our best each day. 
   
Malachi Overview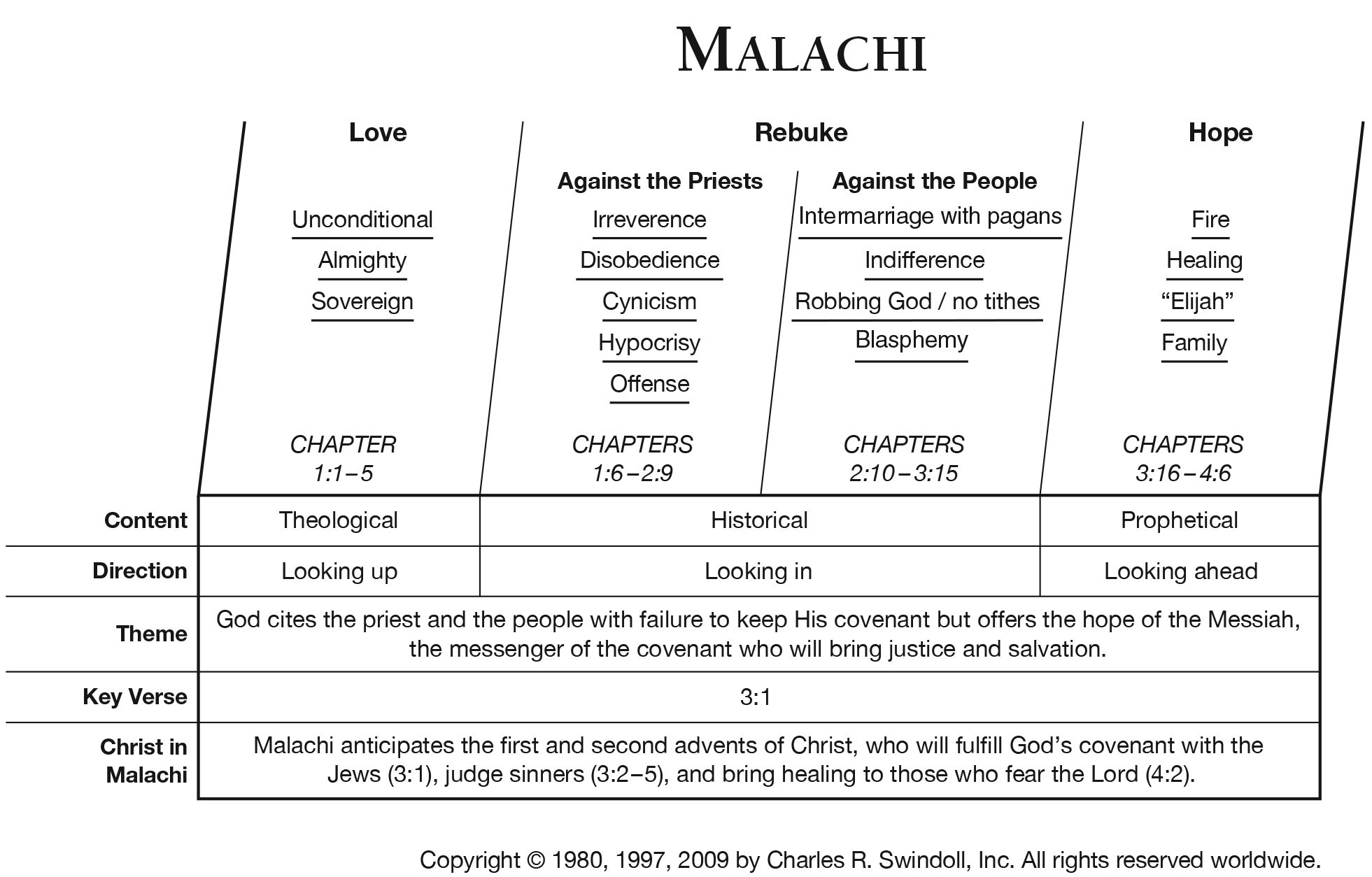 Old Testament Names for God
1. Elohim. "God," ie., His power and might.  Ge 1:1; Ps 19:1




2. El-Elyon, "God Most High".  Ge 14:17-20; Isa 14:13, 14



3. El- Olam, "The everlasting God".  Isa 40:28-31



4. El-Roi, "The God who sees".  Ge 16:13



5. El-Shaddai, "God  Almighty".  Ge 17:1; Ps 91:1



6. Adonai, "Lord Almighty," i.e., the Lordship of God.  Mal 1:6



7. Jehovah (Yahweh), "The Lord God," i.e., God's eternal nature.  Ge 2:4



8. Jehovah-jireh, "The Lord will Provide".  Ge 22:13, 14



9. Jehovah-Maccaddeshem, "The Lord, who makes you holy".  Ex 31:13



10. Jehovah-Nissi, "The Lord is my Banner". Ex 17:15



11. Jehovah-Rapha, "The Lord, who heals you".  Ex 15:26



12. Jehovah-Rohi, "The Lord ... my  shepherd".  Ps 23:1



13. Jehovah-Sabaoth, "The Lord Almighty"/  Isa 6:1-3



14. Jehovah-Shalom, "The Lord is Peace".  Jdg 6:24



15. Jehovah-Shammah, "The Lord is there".  Eze 48:35



16. Jehovah-Tsidkenu, "The Lord Our Righteous Savior".  Jer 23:6