Job Graphics
Vital statistics
| | |
| --- | --- |
|  Purpose:  |  To demonstrate God's sovereignty and the meaning of true faith. It addresses the question, "Why do the righteous suffer?" |
|  Author: |  Unknown, possibly Job. Some have suggested Moses, Solomon ,or Elihu.   |
|  Date written: |  Unknown. Records events that probably occurred during the time of the patriarchs, approximately 2000-1800 B.C. |
|  Setting:  |  The land of Uz, probably located northeast of Palestine, near desert land between Damascus and then Euphrates River  |
|  Key verse: |  "Then the Lord asked Satan, 'Have you noticed my servant Job? He is the finest man in all the earth. He is blameless-a man of complete integrity. He fears God and stays away from evil. And he has maintained his integrity, even though you urged me to harm him without cause' " (2:3) |
|  Key people: |  Job, Eliphaz the Temanite, Bildad the Shuhite, Zophar the Naamathite, Elihu the Buzite  |
|  Special features: |  job is the first of the poetic books in the Hebrew Bible. Some believe this was the first book of the Bible to be written. The book gives us insights into the work of Satan. Ezekiel 14:14, 20 and James 5:11 mention Job as a historical character.  |
Some Family-Related Prayers in the Bible




Prayed about his and Sarah's lack of a child, grieving that he had no heir (

Gen. 15:1–6

).

Prayed for help in finding a wife for Isaac (

Gen. 24:12–14

).

Prayed about Rebekah's barrenness (

Gen. 25:21

).

Prayed in preparation for meeting his estranged brother Esau, whom he had not seen in many years (

Gen. 32:9–12

).

Prayed for God's mercy on his brother Aaron after the incident with the golden calf (

Deut. 9:20

).

Prayed for a son and promised to give him back to God if He would end her barrenness (

1 Sam. 1:9–20

).

Prayed that God would spare the life of his infant son born to Bathsheba (

2 Sam. 12:15–16

).

Prayed for his son Solomon, that God would grant him a faithful heart to lead Israel and build the temple (

1 Chr. 29:16–19

).
A Comparison of Satan's Theology with That of Job's Friends




IF Job is blessed by God, THEN he will be faithful.

IF Job is faithful, THEN he will be blessed.

IF Job is not blessed by God, THEN he will be unfaithful.

(Satan accused God of Bribing His followers.)

IF Job is unfaithful, THEN he will be punished.
An Overview of the Book of Job




Subject:
A Great Man

Characters:
Job and Family

1:1–5

Job and "Friends": Eliphaz, Bildad, Zophar, Elihu

3:1–37:24
The Lord Challenges Job
In the face of God's fearful challenge, Job could only humble himself:
 God's Challenge 
 Job's Response 
 First, Job's Ignorance (38:1-40:2)


He was absent at creation
He cannot explain the forces of nature

 Job admits his ignorance and become silent (40:3-5)
 Second, Job frality (40:6-41:34)   


He cannot overrule God's ways 
He cannot control forces of nature 

 Job confesses his presumption and repents (42:2-6)
The sources of suffering
When suffering or troubles happen, do they always come from Satan? In Job's story, his series of tragedies did come from Satan, but this  is not always the case. The chart above demonstrates the four main causes of suffering. Any one of these or a combination of them may create suffering. If knowing why we are suffering will teach us to avoid the cause, then the causes are worth knowing. However, it is most important to know howto respond during suffering.  
| | | | |
| --- | --- | --- | --- |
|  Sources |  Who is Responsible |  Who is Affected |  Needed Response |
|  My sin |  I am   |  Myself and others  |  Repentance and confession to God |
|  Others' sin |  Person who sinned and others who allowed the sin |  Probably many people, including those who sinned |   Active resistance to the sinful behavior, while accepting the sinner.  |
|  Avoidable physical (or natural) disaster |   Persons who ignore the facts or refuse to take precautions  |   Most of those exposed to the cause |   Prevent them if possible; be prepared if they can[t be prevented |
|   Unavoidable physical (or natural) disaster |   God, Satan |   Most of those present |   Ongoing in God's faithfulness  |
Advice from Job's friends
Overwhelmed by suffering, Job was not comforted but condemned by his friends. Each of their views represents a well-know way to understand suffering. God proves that each explanation given by Job's friends has less than the whole answer:  
 Who they were
 Reference
 How they Helped
 Their Reasoning
Their Advice  
 Job's Response
 God's Response
 Eliphaz the Temanite
Job 4-5; 15; 22 

 

 Job is suffering because he has sinned.
 Go to God and present your case to him. (5:8)
 Stop assuming my guilt. (6:29) 
 
 Bildad the Shuhite
 Job 8; 18; 25 
They
sat in 
silence
with job for
 Job won't admit he sinned, so he's still suffering.  
 How long will you go onm like this? (8:2)
 I will say to Good... Tell me the charge you are bringing against me. (10:2)  
Gob
rebukes
Job's
friends
 Zophar the Naamanthite
Job 11; 20
 seven days.
(2:1-13) 
 Job's sin deserve even more suffering than he's experienced.
 Get rid of your sins. (11:13,14)
 I will be proved innocent. (13:18) 
 (42:7
 Elihu the Buzite
Job 32-37 
 
 God is using suffering to mold and train Job.  
 Keep silent and I will teach you wisdom. (33:33)

 No response 
God does not directly address Elihu.  
 God
Job 38-41   
Confronted Job with the need to be content even though he didn't know why he was suffering 
 Di not explain the reason for the pain.
 Do you still want to argue with the Almighty?
 (40:2) 
 I was taking about things I did not understand (42:3-5) 
 
The Blueprint

 A. JOB IS TESTED (1:1-2:13)

   Job a wealthy and upright man, lost his possessions, his children, and his health. Job did not understand why he was suffering. Why does God allow his children to suffer? Although there is an explanation, we may not know it white we are here on earth. In the meantime, we must always be ready for testing in our lives.    



 B. THREE FRIENDS ANSWER JOB (3:1-31:40)


First round of discussion 
Second round of discussion
Third round of discussion 


   Job's friends wrongly assumed that suffering always came as a result of sin. With this in mind, they tried to persuade Job to repent of his sin. But the three friends were wrong. Suffering is not always a direct result of personal sin. When we experience severe suffering, it may not be our fault, so we don't have to add to our pain by feeling guilty that some hidden sin is causing our trouble.  



 C. A YOUNG MAN ANSWER JOB (32:1-37:24)

   A young man named Elihu, who had been listening to the entire conversation, criticized the three friends for being unable to answer Job. He said that although Job was a good man, he had allowed himself to become proud, and God was punishing him om order to humble him. This answer was partially true because suffering does purify our faith. But God is beyond our comprehension, and we cannot know why he allows each instance of suffering to come into our lives. Our part is simply to remain faithful.  



 D. GOD ANSWER JOB (38:1-41:34)

   God himself finally answered Job. God is in control of the world, and only he understands why the good are allowed to suffer. This only becomes clear to us when we see God for who he is. We must courageously accept what God allows to happen in our lives and remain firmly committed to him.
  

 E. JOB IS RESTORED (42:1-17)

   Job finally learned that when nothing else was left, he had God, and that was enough. Through suffering, we learn that God is enough for our lives and our future. We must love God regardless of whether he allows blessing or suffering to come to us. Testing is difficult, but the result is often a deeper relationship with God. Those who endure the testing of their faith will experience God's great rewards in the end.
 

Job Overview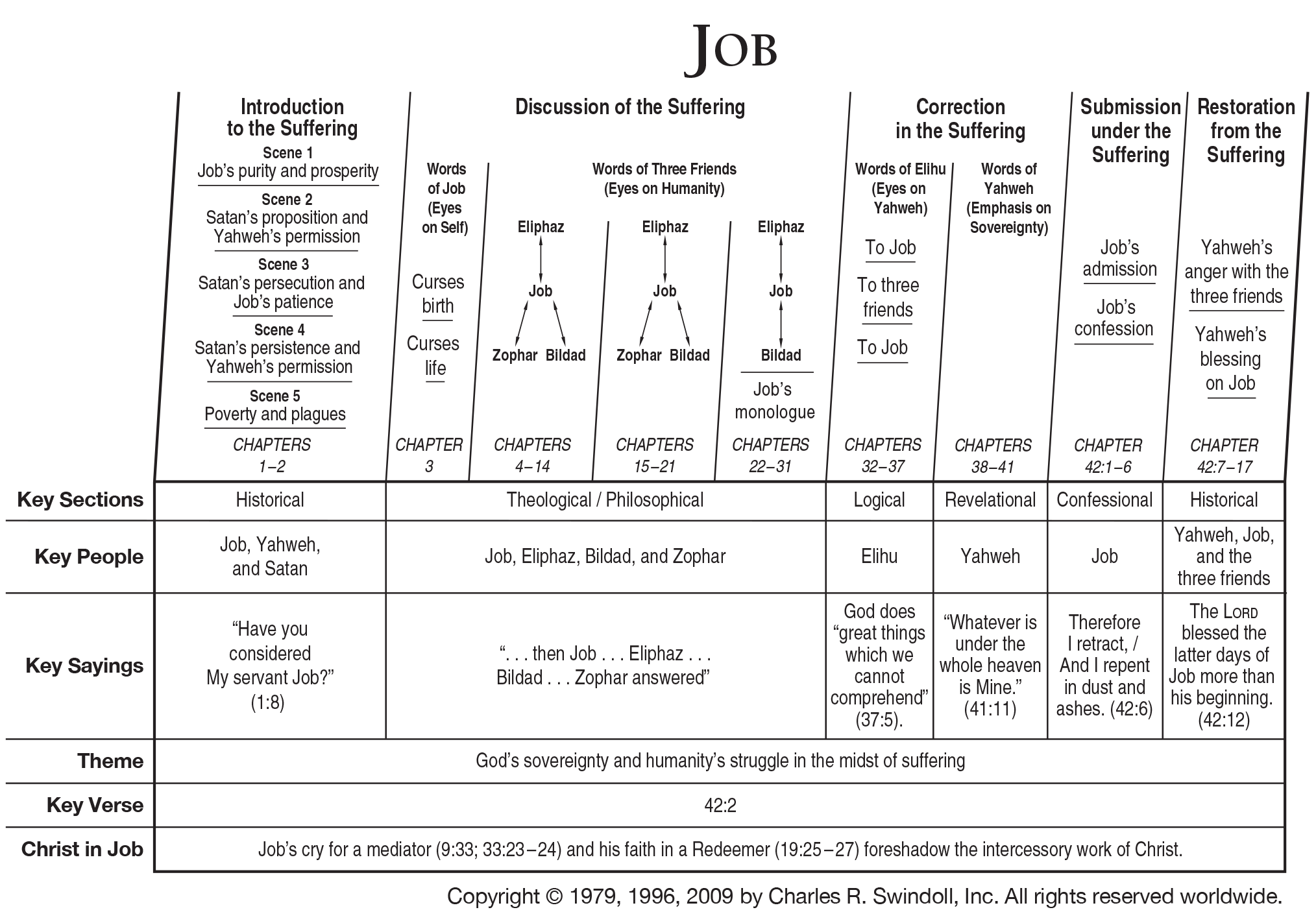 Biographical Sketch of Job
A spiritually mature man (1:1, 8; 2:3)

Father of many children (1:2; 42:13)

Owner of many herds (1:3; 42:12)

A wealthy and influential man (1:3b)

A priest to his family (1:5)

A loving, wise husband (2:9)

A man of prominence in community affairs (29:7-11)

A man of benevolence (29:12-17; 31:32)

A wise leader (29:21-24)

Grower of crops (31:38-40)