Genesis Graphics
Creation

Noah 

 Abram born

Abran entres Canaan 

Isaac born 

 Jacob & Esau born

Jacob flees to Haran 

Joseph born 

Joseph sold into slavery 

Joseph rules Egypt 

Joseph dies  

 ?

 ?

 2166 B.C
(2000 B.C)

 2091
(1925)

2066
(1900) 

 2006
(1840)

 1929
(1764)

 1915
(1750)

1898
(1733)

 1885
(1720)

 1805
(1640)
Vital Statistics
Purpose:

  To record God's creation of the world and his desire to have a people set apart to worship him 

 Author: 

 Moses

 Original audience:

 The people of Israel 

 Date written: 

 1450-1410 B.C

 Where written: 

 In the wilderness during Israel's wanderings, somewhere in the Sinai peninsula.

 Setting:

 The region presently known as the Middle East.  

 Key verse:

 "So God created human beings in his own image. In the image of God he created them; male and female he created them" (1:27)


 'I will make you into a great nation. I will bless you and make you famous, and you will bless those who bless you and curse those who treat you with contempt. All the families on earth will be blessed through you" (12:2, 3) 

 Key people:

 Adam, Eve, Noah, Abraham, Sarah, Isaac, Rebekah, Jacob, Joseph. 
Events of the Flood
| | | | |
| --- | --- | --- | --- |
| | | | |
| | | Noah enters ark; God shuts door. | |
| | | Rains fall; waters rush from seas. Ark floats. | |
| | | Rain stops. Flood rushing in and water still rising. | |
| | | Ark touches bottom on high mountains. Water stops rising; stationary. | |
| | | | |
| | | Ark on dry ground. Noah waits. | |
| | | | |
| | | Noah sends dove; it returns with olive leaf. | |
| | | Noah sends dove; it does not return. Noah waits. | |
| | | | |
| | | Noah sees dry land; waits. | |
| | | Noah commands all to abandon the ark. Total time on ark. | |
Richards, L., & Richards, L. O. (1987). The teacher's commentary. Includes index. (42). Wheaton, Ill.: Victor Books.
| | | |
| --- | --- | --- |
| | | |
| | | |
| | | Men are made in God's image |
| | | Sin introduces death's reign |
| | | The universe has moral order |
| | | God's promise reveals purpose in the universe |
| | | Abraham and all men fall short |
| | | Faith in God is "counted . . . for righteousness" |
| | | The covenant promise was transmitted through Isaac and Jacob |
| | | God providentially orders events to work out His purposes |
Richards, L., & Richards, L. O. (1987). The teacher's commentary. Includes index. (72). Wheaton, Ill.: Victor Books.


Focus of Genesis 
Four Events
1:1 to 11:9

Four People
11:10 to 50:26

Divisions

Creation: 1:1 to 2:25

Fall: 3:1 to 5:32

Flood: 6:1 to 9:29

Nations: 10:1 to 11:9

Abraham: 11:10 – 25:18

Isaac: 25:19 – 26:35

Jacob: 27:1 – 36:43

Joseph: 37:1 – 50:26

Topics

Beginning of the Human Race

Historical

Beginning of the Hebrew Race

Biographical

Place

Fertile Crescent (Eden—Haran)

Canaan (Haran—Canaan)
Egypt (Canaan-Egypt)

Time

c.2000+ Years (c.4004-2090B.C.)

193 Years (2090-1897B.C.)

93 Years (1897-1804B.C.)
Some of  the Gods of Egypt
| | | |
| --- | --- | --- |
| The God | Ruler over | How symbolized |
| Aker | Earth-god - Helper of the dead. | Two lion heads |
| Aton | Sun – god |   |
| Bes | Protection at birth – Dispenser of virility | Group of demons |
| Heket | Primordial goddess | Frog |
| Isis | Goddess of life and healing | Human |
| Khepri | Primordial god – Rising sun | Scarabaeus (beetle) |
| Khnum | Giver of the Nile – Creator of mankind | Human with ram's head |
| Mut | "Eye of the sun" | Vulture or human |
| Nut | Sky goddess – Mother of heavenly bodies |   |
| Osiris | Dead Pharaohs – Ruler of dead, life, vegetation |   |
| Ra | God of sun, earth, and sky – National God | Human with falcon head |
| Selket | Guardian of life – Protector of dead | Scorpion |
| Seth | God of chaos, desert and storm, crops |   |
| Sothis | God of Nile floodwaters |   |
| Thermuthis | Goddess of fertility and harvest; fate | Serpent |
Major Genealogies of the Bible

The descendants of Adam (

Gen. 5:1–32

)

Shows the line from Adam to Noah, through whom God "started over again" to remake the world.

The descendants of Noah (

Gen. 10:1–32

)

Shows the origin the three major people groups of the world, and of the tribes and nations that play a major role in the biblical narrative (see "The Birth of the Nations" at

Gen. 10:1

).

The descendants of Shem (

Gen. 11:10–32

)

Traces the line from Noah's son Shem to Abraham.

The descendants of Esau (

Gen. 36:1–43

)

Gives the principal families of the Edomites, the cousins of the Israelites with whom they regularly feuded (see "The Edomites—Perpetual Enemies of Israel" at

Gen. 36:9

, and "Obadiah: An Ancient Tale of Twin Brothers" at the Introduction to Obadiah).

The descendants of Jacob (

Gen. 46:8–27

)

Gives the principal families of the Israelites.

Moses' first census of Israel (

Num. 1:1–46

)

Gives the heads of the families that left Egypt in the Exodus.

Moses' second census of Israel (

Num. 26:1–65

)

Gives the heads of the families of the generation that entered the Promised Land; was used to divide the land among the tribes.

The genealogy of Israel (

1 Chr. 1–9

)

Reviews the principal families of the Israelites after the Babylonian exile as a way of remembering the nation's history and setting the stage for the account of David's kingdom.

The lists of people returning from the Babylonian exile (

Ezra 2:1–63

;

8:1–14

;

Neh. 7:6–72

)

Gives the principal families that returned to rebuild Judah; was probably used to establish ownership of lands in order to return them to their rightful owners.

Matthew's genealogy of Jesus Christ (

Matt. 1:1–17

)

Establishes Jesus as the Son of David.

Luke's genealogy of Jesus Christ (

Luke 3:23–38

)

Establishes Jesus as fully human, yet also the Son of God.
Personality Profile: The Three Sons of Noah

"God will make spacious. "

After the Flood, perhaps near Mount Ararat

See "The Family of Noah" at

Gen. 5:32

.

Was the father of five sons—Elam, Ashur, Arphaxad, Lud, and Aram (

Gen. 10:22

); listed as an ancestor of Jesus Christ (

Luke 3:36

).

Was the father of four sons—Cush and Put (believed to have settled in parts of Africa), Mizarim (believed to be the father of the Egyptians), and Canaan (believed to have settled Phoenicia and Palestine).

Was the father of seven sons—Gomer, Magog, Madai, Javan, Tubal, Meshech, and Tiras.

The father of five Semitic peoples—Persia, Assyria, Chaldea, Lydia, and Syria—making Shem the father of the ancient Middle Eastern nations generally and the Hebrews in particular (through Arphaxad's descendant Eber).

The father of the Canaanites. Canaan was cursed by Noah when his father Ham "saw the nakedness" of Noah (

Gen. 9:20–27

). The Canaanites were eventually disposessed of their land by the Israelites.

The father of fourteen Indo-European nations mentioned in

Gen. 10

. Some of these may be identified as: the ancient Cimmerians (from Gomer), the Scythians (from Magog), the Medes (from Madai), the Ionians or Greeks (from Javan), the peoples of eastern Turkey (from Tubal and Meshech), and certain Aegean islanders, perhaps the Etruscans (from Tiras)
Women Who Experienced Childlessness




Sarah

(

Gen. 16:1–2

;

18:11–12

;

21:6–7

)

Used her maid Hagar as a surrogate childbearer, but then rejected both Hagar and the child, Ishmael; eventually gave birth to Isaac, changing laughter of pain to laughter of joy.

Conceived after her husband Isaac prayed to the Lord on her behalf; gave birth to twins, Esau and Jacob

Rachel

(

Gen. 29:31–30:24

)

Driven by despair, used her maid Bilhah to compete with the other wife of her husband Jacob, her older sister Leah; eventually gave birth to Joseph and later Benjamin, whose birth caused her death.

Told by God that she would conceive a son who would be a Nazirite; gave birth to Samson, a judge of Israel.

Desperately prayed for a son, whom she vowed to dedicate to the Lord; gave birth to Samuel, a judge of Israel.

Elizabeth

(

Luke 1:5–25

,

57–66

)

Conceived after her husband Zacharias was promised a son who would be the forerunner to the Messiah; gave birth to John the Baptist.
Relatives Who Married Each Other




First cousins once removed; also first cousins twice removed

First cousins; also second cousins once removed; also second cousins twice removed
Description of Trip




Migrated from Ur to Haran (

Gen. 11:31–32

).

Moved from Haran to the land of Canaan in response to God's call (

Gen. 12:1–5

).

Temporarily relocated to Egypt to escape a severe famine in Canaan (

Gen. 12:10

); eventually returned to Canaan and lived a nomadic life in the region around Hebron and the central hill country of Shechem.

Traveled from Beersheba to ancestral Haran to find a wife; lived in Haran for some 20 years before returning to Shechem (

Gen. 28–33

).

Wandered north from Hebron to look for hid brothers; after finding them near Dothan, was sold to slave traders who took him to Egypt, far to the south (

Gen. 37

), where he spent the rest of his life.

Migrated to Egypt to escape a famine in Canaan (

Gen. 42–46

).

Fled from Egypt to Midian after killing an Egyptian (

Ex. 2:14–15

); lived there 40 years before running to lead Israel out of slavery (

4:19–20

).

Traveled to Canaan and back to bury their father at Machpelah with the other patriarchs and their wives (

Gen. 50:1–14

).

Migrated from Egypt to Canaan after 430 years of slavery; trip took more than 40 years (Ex. , Lev. , Num. , Deut. ).

Relocated from Moab to Naomi's ancestral home, Bethlehem (

Ruth 1

).

Journeyed from Gibeah to Ramoth to be anointed Israel's first king (

1 Sam. 9:1–10:1

).

Traveled from Ramah to Bethlehem to anoint David as king (

1 Sam. 16:1–4

).

Moved from Philistia to Hebron to become king; led a force from Hebron to Jerusalem to capture it and make it his capital (

2 Sam. 2:1–4

;

5:7–12

).

Traveled from Jerusalem to Gibeon to offer sacrifices and ask for wisdom (

1 Kin. 3:4–9

).

Traveled north from Africa to Jerusalem to pay a royal visit to Solomon (

1 Kin. 10

).

Ran from Jezreel into the wilderness to escape Queen Jezebel's wrath (

1 Kin. 18:46–19:4

).

Fled by ship to avoid God's command to prophesy against Nineveh; later went there (

Jon. 1–4

).

Taken from Jerusalem to Babylon; later allowed to return to Judah (

2 Chr. 36:20

;

Ezra 1

).

Traveled from Babylon to Jerusalem to revive the Law in Israel (

Ezra 7:1–10

).

Traveled from Babylon to Jerusalem to rebuild the city wall (

Neh. 1–2

).
Major Women in the Book of Genesis

The first woman, who chose to eat what God had forbidden, resulting in expulsion from the Garden of Eden and separation from God.

Sarai/Sarah (

17:15–18:15

;

20:1–21:13

;

23:1–2

)

A woman whose child late in life was the fulfillment to God's covenant promise.

A slave who was abused by her mistress; but God remembered and rescued her. Hagar was the first woman in the Bible to call out a name for God ("You-Are-the-God-Who-Sees, "

Gen. 16:13

).

Lot's Daughters (

19:30–38

)

Two women widowed by the destruction of Sodom, who chose incest rather than barrenness.

Rebekah (

24:1–67

;

25:20–26

;

27:5–46

)

A cunning woman who perceived a way to capture her husband Isaac's blessing for her favorite son.

Rachel and Leah (

29:9–30:24

)

Rival daughters of a manipulative father (Laban), and rival wives to the same man (Jacob).

A victim of rape who was avenged by her brothers, who considered the assault on her as an assault on their family.

A widow who resorted to prostitution to obtain justice and support from her father-in-law.

Potiphar's Wife (

39:7–20

)

A vindictive temptress who used sexual harassment to slander an innocent man.
Concubines in the Bible

Abram (Abraham) and Sarai (Sarah)

Functioned as a concubine through Sarah's insistence; gave birth to Ishmael.

Keturah

(

Gen. 25:1

;

1 Chr. 1:32

)

Bore Abraham six sons. (Abraham also had other concubines who bore him sons,

Gen. 25:6

)

Bore two sons to Jacob; later sexually involved with Reuben, Jacob's oldest son (

Gen. 35:22

).

Gave birth to two of Jacob's twelve sons.

Gave birth to Amalek, the father of the Amalekites.

Gave birth to a son named Abimelech.

Unidentified Levite of Ephraim

Proved unfaithful to her husband before returning to her father's house in Bethlehem; retrieved by her husband, but on the way home was gang-raped by men from Gibeah, an assault from which she died (

Judg. 20–21

).

Bore two sons, Armoni and Mephibosheth; said by Ishbosheth, Saul's son, to have been used sexually by Abner, Saul's commander-in-chief—an act that would have amounted to claming the throne; kept vigil aver the bodies to her sons for several months after their death (

2 Sam. 21:10

).

At least ten unnamed women (

2 Sam. 5:13

;

15:16

)

Bore David numerous children; violated by David's son Absalom (

2 Sam. 16:21–22

); the ten lived out their days in virtual widowhood after the rebellion of Sheba (

20:1–3

).

Three hundred unnamed women (

1 Kin. 11:3

)

Helped to turn Solomon's heart away from the Lord.

Bore three sons to Caleb.

Unnamed Syrian woman (

1 Chr. 7:14

)

Bore him Machir, the great-grandfather of Zelophehad (see "The Jubilee Factor" at

Num. 36:4

).

Sixty unnamed women (

2 Chr. 11:21

)

Helped enable Rehoboam to have 28 sons and 60 daughters.

Was selected from the king's harem to become queen, a position from which she helped to save her people the Jews from genocide.
The Edomites—Perpetual Enemies of Israel
The Edomites and Israelites were descended from Isaac's two sons Esau and Jacob, respectively. Yet despite this kinship, the two peoples feuded repeatedly throughout biblical history, as the following table shows:
Denied the Israelites access to the King's Highway during their journey to Canaan (

Num. 20:14–21

).

"Harassed" the Edomites during the time of Saul (

1 Sam. 14:47

).

(Doeg the Edomite, an official of Saul's massacred the entire community of Nob, home to some 85 priests and their families,

1 Sam. 22:9–19

).

Conquered Edom under David and stationed troops there (

2 Sam. 8:13–14

), fulfilling the prophecy of Balaam (

Num. 24:18

; David's general Joab then carried out a campaign of genocide,

1 Kin. 11:15–16

).

Opposed Saul under Hadad, a member of the royal family who had escaped Joab's massacre (

1 Kin. 11:14–22

).

Conspired with the Ammonites and Moabites to raid Judah during Jehoshaphat's reign, but were turned back (

2 Chr. 20:1

,

10

).

Rebelled against Judah's control during the reign of Joram (

2 Kin. 8:20–22

).

Returned Edom to their control when Amaziah captured Sela, the capital city (

2 Kin. 14:7

), and executed 10, 000 prisoners by throwing them off a cliff (

2 Chr. 25:11–12

).

Invaded Judah and took captives while Judah was being attacked by Pekah of Israel and Rezin of Syria (

2 Kin. 16:5–6

;

2 Chr. 28:16–17

).

Rejoiced over Jerusalem's fall to the Babylonians (

Ps. 137:7

).

Took over some of Judah's southern territory and established settlements as far north as Hebron.

(Herod the Great, a descendant of the Edomites, ordered the massacre of baby boys in and around Bethlehem in an attempt to kill the baby Jesus,

Matt. 2:16–18

).
Principal Families in Genesis*




Cain, Abel, Seth, and many more

Zimran, Jokshan, Medan, Midian, Ishbak, Shuah

Lot and an unspecified wife

Lot and his older daughter

Lot and his younger daughter

Reuben, Simeon, Levi, Judah, Issachar, Zebulun, Dinah

Judah and the daughter of Shua

Judah and his daughter-in-law Tamar (

Gen. 38

)

*This list shows nuclear families only. However, "families" in the Bible means extended families that reach across generational and even geographical lines.
Examples of Theological Reflection in Scripture




Joseph

(

Gen. 45:5–8

;

50:20

)

God, not his brothers, sold him into slavery; God used it to preserve His people.

Apart from God, all of life is "vanity"—emptiness and futility.

God enabled Esther to become the queen of Persia in order to spare His people from genocide.

Writing to Philemon in Colosse

Onesimus the slave ran away in order that God might bring him to salvation and return him to his master as a brother in Christ (see "Perhaps. . . " at

Philem. 15–16

).
 The Outcome of Jacob's Predictions
Jacob's pronouncement to his twelve sons of what would happen to them "in the last days" (
Gen. 49:1
) was highly individualized for each son:
Reuben paid a heavy price for his sin with Bilhah (

Gen. 35:22

). Though he was the firstborn son, he and his descendants did not receive the birthright (or double portion of the inheritance,

Deut. 21:17

), which went to Joseph's two sons instead (

Gen. 48:8–16

;

1 Chr. 5:1

).

Simeon and Levi spearheaded the massacre of Shechem's family and city (

Gen. 34:25

). Over time, the tribe of Simeon was largely assimilated into Judah.

Levi Joined Simeon in the attack on Shechem (

Gen. 34:25

). His descendants were given no land of their own in Canaan, though they were allowed to live in designated Levitical cities (see

Josh. 21:1–3

).

Judah was a leader among the brothers, and his descendants became the tribe of kings, and ultimately of the Messiah.

The tribe of Zebulun inherited much of the heavily traveled Galilee region, including Nazareth, the hometown of Jesus.

The tribe of Issachar inherited rich agricultural lands in the valley of Jezreel (see

2 Kin. 9:37

). This caused them of prosper materially, but compromise politically.

It could be that the tribe of Dan tended not to support the other tribes militarily. When they were unable to conquer some of their own allotted territory, a group of Danites migrated far to the north and conquered the isolated city of Laish, renaming it Dan. Later, this became a principal center of idolatry (

1 Kin. 12:28–30

)

The tribe of Gad inherited land east of the Jordan River, but struggled to hold on to it.

The tribe of Asher benefited materially by their close proximity to the Phoenician cities of Tyre and Sidon (see "Israel and the Phoenicians" at

2 Chr. 9:21

).

The tribe of Naphtali failed to completely drive out the Canaanites (

Judg. 1:33

). Their territory was ravaged by the Syrian king Ben-Hadad (

1 Kin. 15:20

), and later they were the first Israelite tribe to be deported by the Assyrians (

2 Kin. 15:29

).

Joseph's two sons, Ephraim and Manasseh, inherited the family birthright (

Gen. 48:8–16

;

1 Chr. 5:1

). The tribe of Ephraim became especially prominent, and its name was used to designate the northern kingdom that one day rivaled Judah.

The tribe of Benjamin was renowned for its warriors, particularly left-handed slingers. It was the tribe of Saul, Israel's first king, and later sided with Judah in the divided kingdom.
Joseph's Complicated 

Resume

Errand boy/shepherd (

Gen. 37:12–17

)

Southern Canaan and Egypt

Household servant (

39:2–3

)

Personal aide and manager (

39:4–6

)

Resource manager (

41:33–55

)

International broker (

41:56–42:7

)

Immigration coordinator (

46:28–47:12

,

27

)

Crisis manager (

47:13–26

)
Joseph - A Type of Christ
| | | |
| --- | --- | --- |
|  Joseph |  Parallels |  Jesus |
|  37:2 |  A shepherd of his father's sheep  |  Jn 10:11, 27-29 |
|  37:3 |  His father loved him dearly  |  Mt 3:17 |
|  37:4 |  Hated by his brothers  |  Jn 7:4, 5 |
|  37:13, 14 |  Sent by father to brothers |  Heb 2:11 |
|  37:20 |  Others plotted to harm them |  Jn 11:53 |
|  37:23 |  Robes taken from them |  Jn 19:23, 24 |
|  37:26 |  Taken to Egypt  |  Mt 2:14, 15 |
|  37:28 |  Sold for the price of a slave |  Mt 26:15 |
|  39:7 |  Tempted |  Mt 4:1 |
|  39:16-18 |  Falsely accused  |  Mt 26:59, 60 |
|  39:20 |  Bound in chains |  Mt 27:2 |
|  40:2, 3 |  Placed with two other prisoners, one who was saved and the other lost |  Lk 23:32 |
|  41:41 |  Exalted after suffering  |  Php 2:9-11 |
|  41:46 |  Both 30 years old at the beginning of public recognition  |  Lk 3:23 |
|  42:24; 45:2, 14, 15; 46:29 |  Both wept  |  Jn 11:35 |
|  45:1-15 |  Forgave those who wronged them |  Lk 23:34 |
|  45:7 |  Saved their nation  |  Mt 1:21  |
|  50:20 |  What men did to hurt them, God turned to good |  1Co 2:7, 8 |
The Sons of Jacob
 Mother
 Son
 Meaning of Name
 Reference of Birth
(Genesis)
 Order of Blessing 
 Symbol of Blessing

 Reference of Blessing 

(Genesis)

 Leah
 Reuben 
 Behold, a son
 29:32
 1
 Reckless
 49:3-4
 
 Simeon
 Hearing 
 29:33 
 2 
 Violence 
 49:5-7 
 
 Levi
 Attachment 
 29:34
 3
 Violence
 49:5-7
 
 Judah
 Praise 
 29:35
 4
 Lion
 49:8-12
 Bilhah 
 Dan
 Judgment
 30:6
 7 
 Serpent  
 49:16-18
 
 Naphtali 
 Wrestle
 30:6
 10
 Doe
 49:21
 Zipah
 Gad 
 Good fortune  
 30:11 
 8 
 Raider  
 49:19 
 
 Asher 
 Happy
 30:13
 9
 Rich good
 49:20
 Leah
 Issachar 
 Reward 
 30:18
 6
 Donkey 
 49:14-15
 
 Zebulun 
 Abode
 30:20
 5
 Ships 
 49:13
 Rachel
 Joseph
 May he add
 30:24
 11
 Fruitful 
 49:22-26
 
 Benjamin 
 Son of the right hand
 35:18
 12
 Wolf
 49:27 
The Blueprint
THE STORY OF CREATION (1:1-2:4)




 God created the sky, seas, and land. He created the plants, animals, fish, and birds. But he created human beings in his image. At times, others may treat us disrespectfully. But we can be certain of our dignity and worth because we have been created in the image of God.

THE STORY OF ADAM (2:4-5:32)

Adam and Eve

Cain and Abel

Adam's descendants

  When Adam and Eve were created by God, they were without sin. But they became sinful when they disobeyed God and ate some fruit from the tree. Through Adam and Eve we learn about the destructive power of sin and its bitter consequences.  

THE STORY OF NOAH (6:1-11:32)

The Flood

Repopulating the earth

The tower of Babel

 Noah was spared from the destruction of the Flood because he obeyed God and built the boat. Just as God protected Noah and his family, he still protects those who are faithful to him today.

THE STORY OF ABRAHAM (12:1-25:18)

God promises a nation to Abram

Abram and Lot

God promises a son to Abram

Sodom and Gomorrah

Birth and near sacrifice of Isaac

Isaac and Rebekah

Abraham dies

 Abraham was asked to leave his country, wander in Canaan, wait years for a son, and then sacrifice him as a burnt offering. Through these periods of sharp testing, Abraham remained faithful to God. His example teaches us what it means to live a life of faith.

THE STORY OF ISAAC (25:19-28:9)

Jacob and Esau

Isaac and Abimelech

Jacob gets Isaac's blessing

 Isaac did not demand his own way. He did not resist when he was about to be sacrificed, and he gladly accepted a wife chosen for him by others. Like Isaac, we must learn to put God's will ahead of our own.

THE STORY OF JACOB (28:10-36:43

Jacob stars a family

JAcob returns home

 Jacob did not give up easily. He faithfully served Laban for over 14 years. Latter, he wrestled with God. Although Jacob made many mistakes, his hard work teaches us living a life of service for our Lord.

THE STORY OF JOSEPH (37:1-50:26)

Joseph is sold into slavery

Judah and Tamar

Joseph is thrown into prison

Joseph is placed in charge of Egypt

JOseph and his brothers meet in Egypt

Jacob's family moves to Egypt

Jacob and Joseph died in Egypt

 Joseph was sold into slavery by his brothers and unjustly thrown into prison by his master. Through the life of Joseph, we learn that suffering, no matter how unfair, can develop strong character in us.  
Genesis Overview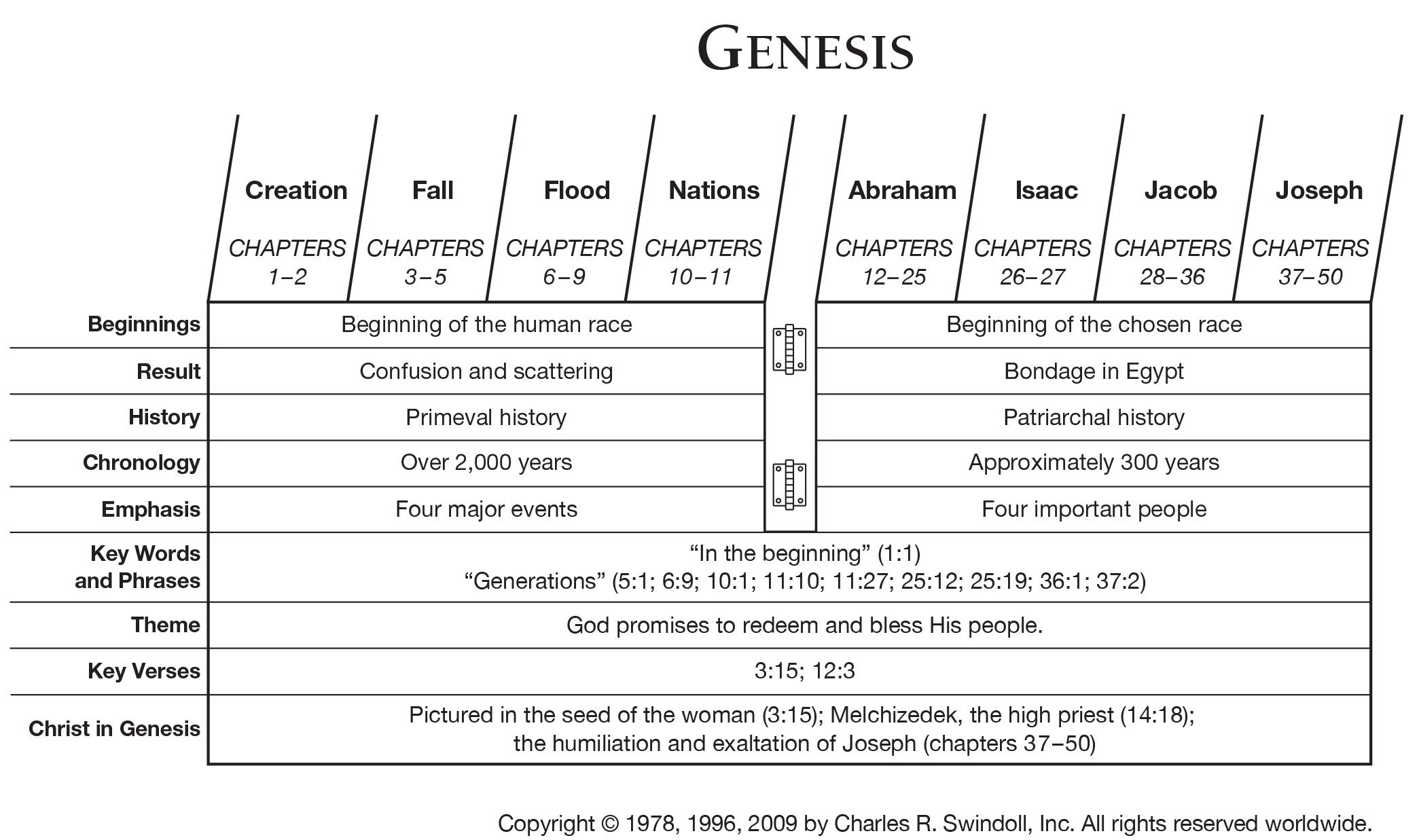 False God on the Old Testament
Rachel's household gods (Ge 31:19)
The golden calf at Sinai (Ex 32)
Nanna, the moon god of Ur, worshiped by Abraham before his salvation (Jos 24:2)
Asherah, or Ashtaroth, the chief goddess of Tyre, referred to as the lady of the sea (Jdg 6:24-32)
Dagon, the chief Philistine agriculture and sea god and father of Baal (Jdg 16:23-30; 1Sa 5:1-7)
Ashtoreth, a Canaanite goddess, another consort of Baal (1Sa 7:3, 4)
Molek, the god of Ammonites and the most horrible idol in the Scriptures (1Ki 11:7; 2Ch 28:14; 33:6)
The two golden images made by King Jeroboam, set up at the shrines of Dan and Bethel (1Ki 12:28-31)
Baal, the chief deity of Canaan (1Ki 18:17-40; 2Ki 10:28; 11:18)
Rimmon, the Syrian god of Naaman the leper (2Ki 5:15-19)
Nisrok, the Assyrian god of Sennacherib (2Ki 19:37)
Nebo, the Babylonian god of wisdom and literature (Isa 46:1)
Mardik, the chief god of the Babylonian pantheon (Jer 50:2)
Ammuz, the husband and brother of Ishtar (Asherah), goddess of fertility (Eze 8:14) 
The golden image in the plain of Dura (Da 3)