Colossians Graphics
Vital statistics
| | |
| --- | --- |
|  Purpose: |  To combat errors in the church and to show that believers have everything they need in Christ |
|  Author: |  Paul  |
|  Original audience: |  The church at Colosse, a city in Asia Minor |
|  Date written: |  Approximately A.D. 60 during Paul's imprisonment in Rome |
|  Setting: |  Paul had never visited Colosee. Evidently the church had been founded by Epaphras and other converts from Paul's missionary travels. The church, however, had been infiltrated by religious relativism, with some believers attempting to combine elements of paganism and secular philosophy with Christian doctrine. Paul confronts these false teachings and affirms the sufficiency of Christ.  |
|  Key verses:  |  "For in Christ lives all the fullness of God in a human body. So you also are complete through your union with Christ, who is the head over every ruler and authority" (2:9, 10). |
|  Key people: |  Paul, Timothy, Tychicus, Onesimus, Aristarchus, Mark, Epaphras   |
|  Key places: |  Colosse, Laodicea (4:15, 16) |
|  Special features:  |  Christ is presented as having absolute supremacy and sole sufficiency. Colossians has similarities to Ephesians, probably because it was written at about the same time, but it has a different emphasis.  |
Ephesians and Colossians: Companion Prison Epistles Compared




Jesus Christ: Lord of the

Church

Jesus Christ: Lord of the

cosmos

Emphasis on the

church

as the body of Christ but also affirms Christ as Head of the church.

Emphasis on

Christ

as the Head of the cosmos and the church.

Less personal and probably a

circular

epistle.

More personal and

local

-church-oriented.

Addresses the errors of false teaching less directly (heresy is not yet a major danger).

Speaks to the errors of false doctrine directly (heresy is more threatening).

Common themes treated extensively.

Common themes treated briefly.
Colossians: Christ is All




1:1

,

2

Salutation to Saints

1:3–8

The Growth of the Gospel of Grace

1:9–14

Paul's Prayer for a worthy Walk

1:15–18

Christ the Supreme Lord

1:19–23

Christ the Reconciler

1:24–29

Serving the Mystery and Striving for Maturity

2:1–5

Christ the Teasurehouse

2:6–10

Christ the Fullness of the Godhead

2:11–23

Christ the Reality Supersedes Man-Made Regulations

3:1–4

Hearts and Minds Seated Above with Christ Our Life

3:5–11

Christ is All-So Sinful Practices Must Fall

3:12–17

Christian Virtues and Christian Worship

3:18–4:1

Christian Relationships

4:2–6

Prayer and Proclamation

4:7–18

Farewells from Faithful Friends

Key Verses
"For in Him dwell all the fullness of the Godhead bodily; and you are complete in Him, who is the head of all principality and power."
(

2:9

,

10

)
The Four Great Christological Passages




(1) His divine Relationship to the Father

The image of the invisible god

The revelation of God

1:2

The Son He (God) loves

1:13

(2) His Divine Work
Creation of All

1:4

,

5

,

19–22

,

2:6

,

13–15

Theotetos

(Godhead)

2:9

;

1:19

;

2:9



The Colossians Heresy
    

Paul answered the varios tenets of the Colossians heresy that threatened the church. This heresy was a "mixed bag," containing elements from several different heresies, some of which contradicted each other (as the chart shows). 
 The Heresy
Reference 
 Paul's Answer
 Spirits is good; matter is evil
1:15-20 
 God created heaven and earth for his glory 
 One must follow ceremonies
2:11, 16-23 
 These were only shadows that ended when Christ came. He is all you need to be saved. 
 One must deny the body and live in strict asceticism. 
2:18-23 
 Asceticism is no help in conquering evil thoughts and desires; instead, it leads to pride. 
  Angel must be worshiped.
 2:18
 Angels are not to be worshiped; Christ alone is worthy of worship. 
 Christ could not be both human and divine. 
1:15-20; 2:2, 3 
 Christ is God in the flesh; he is the eternal one, head of the body, first in everything, supreme. 
 One must obtain, "secret knowledge" in order to be saved or perfected - and this was not available to everyone.  
2:2, 18 
 God's mysterious plan is Christ himself, and he has been revealed to all. 
 One must adhere to human wisdom, tradition, and philosophies. 
 2:4, 8-10; 3:15-17
 By themselves, these can be misleading and shallow because they have human origin; instead, we should remember what Christ taught and follow his words as our ultimate authority.  
 It is even better to combine aspects of several religions. 
 2:10
 You are complete through your union with Christ, he is all-sufficient.  
 

There is nothing wrong with immorality.

 3:1-11
 Get rid of sin and evil because you have been chosen by God to live a new life as a representative of the Lord Jesus.  
How to pray for other Christians
Be thankful for their faith and changed lives (1:3).

Ask God to help them know his will (1:9).

Ask God to give them spiritual wisdom and understanding (1:9).

Ask God to help them live to honor and please him (1:10).

Ask God to give them more knowledge of himself (1:10).

Ask God to give them strength for endurance and patience (1:11).

Ask God to fill them with joy and thankfulness (1:11, 12).
How many people in your life could be touched if you prayed in this way?
The Blueprint
 1. What Christ has done (1:1-2:23)

 2. What Christians should do (3:1-4:8) 
 In this letter Paul clearly teaches that Christ has paid for sin, that Christ has reconciled us to God, and that Christ gives us the pattern and the power to grow spiritually. Because in Christ lives all the fullness of God, when we learn what he is like, we see what we need to become. Since Christ is Lord over all creation, we should crown him Lord over our lives. Since Christ is the head of the body, his church, we should nurture our vital connection to him.  
Colossians Overview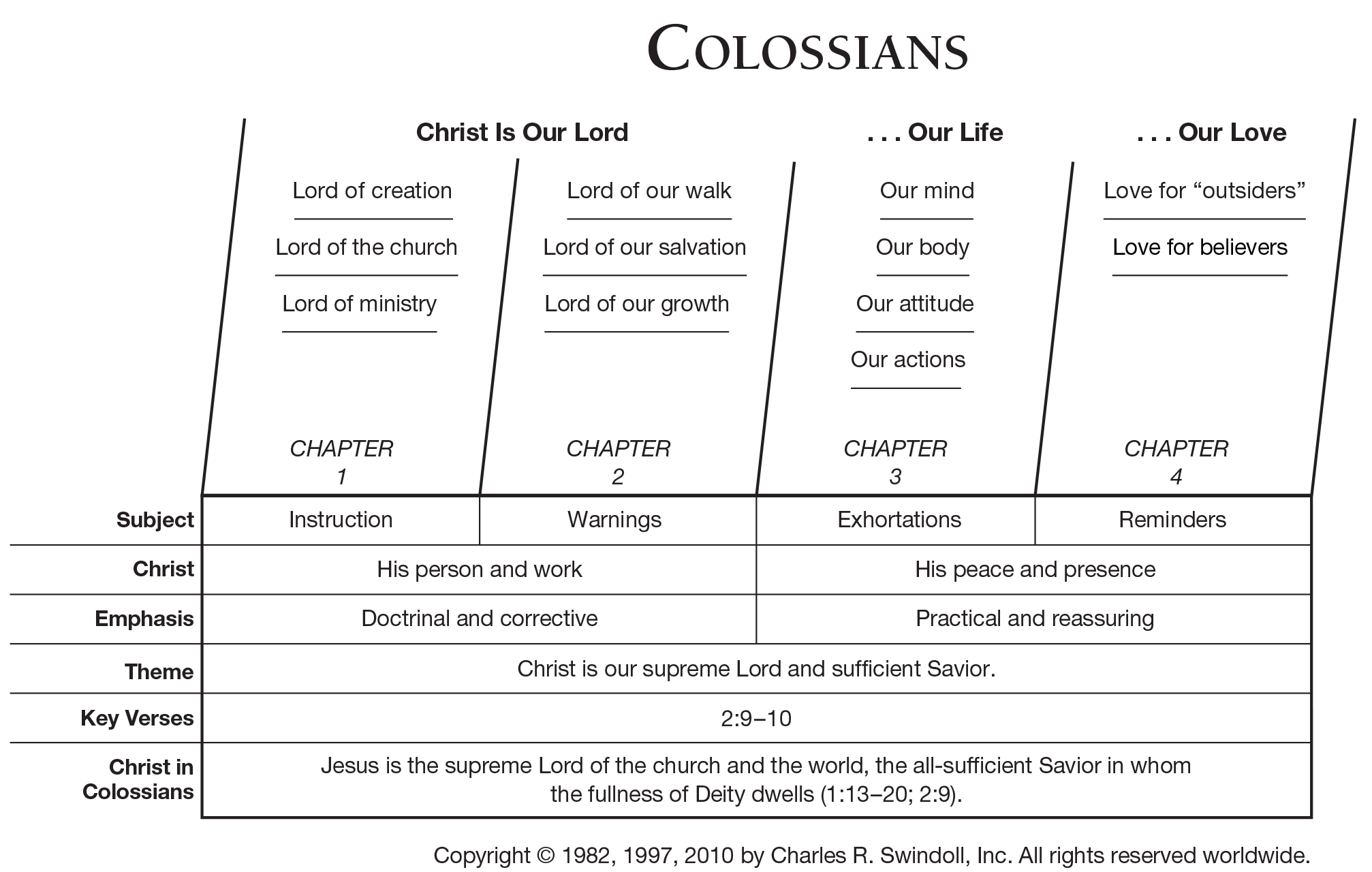 Titles of Christ
| | | |
| --- | --- | --- |
|  Name or Title |  Significance |  Biblical Reference |
|  Adam, Las Adam |  First of the new race of the redeemed |  1Co 15:45 |
|  Alpha and Omega |  The beginning and ending of all things |  Rev 21:6 |
|  Bread of Life |  The one essential food |  Jn 6:35  |
|  Cornerstone |  A sure foundation for life |  Eph 2:20 |
|  Chief Shepherd |  Protector, sustainer, and guide |  1Pe 5:4 |
|  Firstborn from the Dead |  Leads us into resurrection and eternal life |  Col 1:18 |
|  Good Shepherd |  Provider and caretaker  |  Jn 10:11 |
|  Great Shepherd of the Sheep |  Trustworthy guide and protector |  Heb 13:20 |
|  High Priest  |  A perfect sacrifice for ours sins |  Heb 3:1 |
|  Holy One of God |  SInless in His nature |  Mk 1:24 |
|  Immanuel (God With Us) |  Stands with us in all life's circumstances |  Mt 1:23 |
|  King of Kings, Lord of Lords |  The Almighty, before whom every knee will bow |  Rev 10:16 |
|  Lamb of God |  Gave His life as a sacrifice on our behalf  |  Jn 1:29 |
|  Light of the World  |  Brings hope in the midst of darkness |  Jn 9:5 |
|  Lord of Glory |  The power and presence of the living God |  1Co 2:8 |
|  Mediator between God and Mankind |  Brings us into God's presence redeemed and forgiven |  1Ti 2:5 |
|  One and Only Son |  The unique, one-of-a-kind Son of God |  Jn 1:14 |
|  Prophet  |  Faithful proclaimer of the truths of God |  Ac 3:22 |
|  Savior |  Delivers from sin and death |  Lk 1:47 |
|  Seed of Abraham |  Mediator of God's covenant |  Gal 3:16 |
|  Son of Man |  Identifies with us in our humanity |  Lk 19:10 |
|  The World  |  Present with God at the creation |  Jn 1:1 |