| | | | | | |
| --- | --- | --- | --- | --- | --- |
| Jeroboam II becomes king of Israel | Amos becomes a prophet to Israel  | Hosea becomes a prophet to Israel  | King Shallum of Israel is assassinated  |  Amos's ministry ends | Isaiah becomes a prophet to Judah  |
|  793 B.C |  760 |  753 | 752  |  750 |  740 |
Vital statistics
| | |
| --- | --- |
|  Purpose: |  To pronounce God's judgment upon Israel, the northern kingdom, for its complacency, idolatry, and oppression of the poor.   |
|  Author: |  Amos |
|  Original audience: |  The people of Israel (the northern kingdom) |
|  Date written: |  Probably during the reigns of Jeroboam II of Israel and Uzziah of Judah (approximately 760-750 B.C.) |
|  Setting: |  The wealthy people of Israel were enjoying peace and prosperity. They were quite complacent and were oppressing the poor, even selling therm into slavery. Soon, however, Israel would be conquered by Assyria, and the rich would themselves become slaves.  |
|  Key verse: |  "Instead, I want to see a mighty flood of justice, an end less river of righteous living" (5:24) |
|  Key people: |  Amos, Amaziah, Jeroboam II |
|  Key places: |  Bethel, Samaria  |
|  Special features: | Amos uses striking metaphors from his shepherding and farming experience-a loaded wagon (2:13), a roaring lion (3:8), a mutilated sheep (3:12), fat cows (4:1), and a basket of ripe fruit (8:1, 2).  |
The Rulers and Prophets of Amos's Time
840
830
820
810
800
790
780
770
760
750
740
730
720
710
700
690
680

Kings of Assyria

 
 
 
 
 
 
 755-745 Ashurnirari
 
 
 
 
 
 
 
 
 

 Ashurdan III       773 -755

Tiglath-pileserIII   745-727

705Sennacherib 781

 
 
 
 

Kings of Israel (Northern Kingdom)

 
 

793         Jeroboam II           753

Menahem   752 742
 Northern ten tribes taken captive by King Shalmaneser V of Assyria in 722
 
 
 
 

752 Pekah 732

732 Hoshea 722

 
 
 

Jehoash (Joash)798   782

 
 
 
Zechariah
 
 
 
 
 
 
 
 
Shallum one month
 
 
 
 
 
 
 
 
 
 
 

742 Pekahiah 740

 
 
 
 

Hosea and His Contemporary Prophets       (Northern Kingdom)

 
 
 
 
 
 

 

 
 
 
 
 
 
 
 
 
 
 

 AMOS     767 755

 
 
 
 
 
 
 
 
 
 

   Jonah     784         772

 765          Hosea         714
 
 
 
 
 
 
 
 

Kings of Judah  (Southern Kingdom)

 
 

 790 Uzziah or Azariah 739

735 Ahaz 715

 
 
 
 
 

796 Amaziah 767

 

750   Jotham   731

 
 
 
 
 
 
 
 
 
 
 
 
 

 

 
 
 
 
 

Prophets to       Judah           (Southern Kingdom)

 
 
 
 
 
 
 

 739                            Isaiah                            681

 
 
 
 
 
 
 
 

 733      Micah     701

 
 
 
 
 
 
 
 
 
 
 
 
 
 
 
 
 
 
 
825 Joel 809
 
 
 
 
 
 
 
 
 
 
 
 
 
840
830
820
810
800
790
780
770
760
750
740
730
720
710
700
690
680
Personality Profile: 
Amos
1:1
Name means:
"Burden bearer."
Home:
Tekoa (
Amos 1:1
), a town about 10 miles south of Jerusalem.
Occupation:
Sheep breeder (
1:1
), sycamore cultivator (
7:14
), and prophet during the reign of Jeroboam II (c. 793–753
a.d.
).
Best known today as:
A prophet who denounced the northern kingdom of Israel for its idolatry, injustice, corruption, and oppression of the poor. Amos' warnings of the Lord's judgment came to pass when Assyria overran Israel a generation later.
Amos
Served as a prophet to Israel (the northern kingdom) from 760-750 B.C.
 
 CLIMATE OF THE TIMES


 
 Israel was enjoying peace and economic prosperity. But this blessing had caused her to become a selfish, materialistic society. Those who were well-off ignored the needs of those less fortunate. The people were self-centered and indifferent toward God.  


 
 MAIN MESSAGE


 
 Amos spoke against those who exploited or ignored the needy. 
 
 IMPORTANCE OF MESSAGE


 
 Believing in God is more than a matter of individual faith. God calls all believers to work against injustices in society and to aid those less fortunate.   


 
 CONTEMPORARY PROPHETS 


 
 Jonah (793-753 B.C.), Hosea (753-715 B.C)
The Blueprint
 
  1. ANNOUNCEMENT OF JUDGMENT  (1:1-2:16)

  2. REASONS FOR JUDGMENT (3:1-6:14)

  3. VISIONS OF JUDGMENT (7:1-9:15)


 
  Amos speaks with brutal frankness in denouncing sin. He collided with the false religions leaders of his day and was not intimidated by priest or king. He continued to speak his message boobly. God requires truth and goodness, justice and righteousness, from all people and nations today as well. Many of the conditions in Israel during Amos's time are evident in today's society. We need Amos's courage to ignore danger and stand against sin.
   
Amos Overview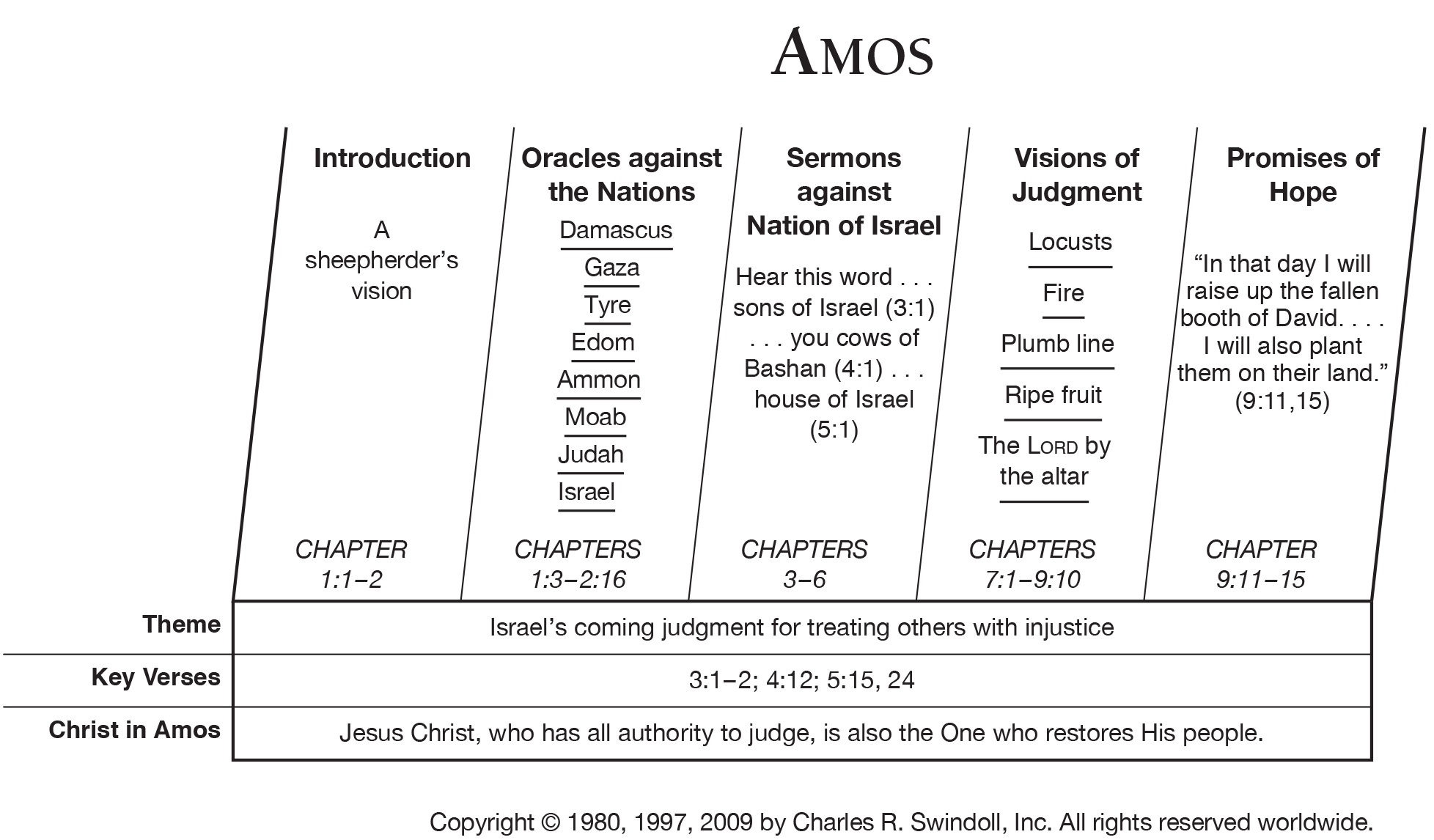 Five Visions of Amos
Vision of Locusts (7:1-3)
Vision of Fire (7:4-6)
Vision of the Plumb Line (7:7-9)
Vision of the Ripe Fruit (8:1-14)
Vision of the Lord (9:1-10)